HZ-H60 Color sensor
ImaginArt presents the HZ-H60 color sensor. This sensor detects the color of objects that are held against or placed directly upon the sensor. The color of the object is communicated back to the Xperience controller in the form of our easy-to-read serial commands. For this sensor, the Hue, Saturation and Lightness (HSL) values are communicated through these API commands.


Color sensor applications
Create Place & Learn applications with metal objects -which is not possible with RFID technology-, such as beverage cans or electronics. If the product does not have an explicit color, colored stickers can be used on the bottom of the product.
Other retail examples include matching color input to highlight, or -indicate the location of products on in-store shelving.
Or triggering onscreen visualizations of luxury objects color finishes, as for example cars at car dealerships; allow shoppers to browse through options by placing color samples on the sensor and show their new car onscreen in their preferred color.
In museums or entertainment areas, triggering color-based digital content engages even the youngest of audiences. For instance, add fun to nutritional education by letting kids pick and place replicas of veggies and fruits onto central, plate-shaped platforms in which the sensor is installed, and trigger exciting content about Eating the Rainbow.
Click below to view or download the full specs of the Color sensor:
Interactivity made easy
The communicated API commands are used in the software of your digital media player to trigger connected events, for example, triggering or changing content on the screen, and changing the animation of your connected LED strips to match the color chosen by the person using your presentation. You can even trigger audio files on connected speakers.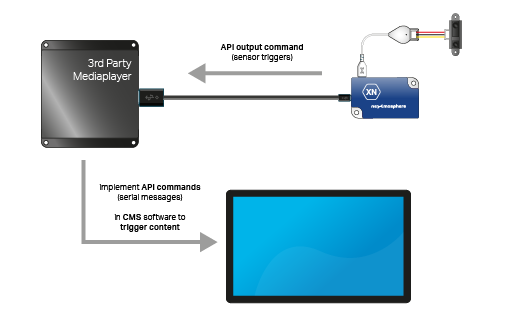 Content Management
Building creative interactive installations is made easy by our robust hardware that can be controlled with only a few clicks by many Content Management Systems.   When choosing any of our partners CMS's, you are assured of easy implementation and joined support in case you have any questions during installation or programming of your interactive Xperience.
More info
For more tech detail about this sensor, contact our applications team for tailored project advice.