Thermographic cameras with temperature alarm
Automatic detection of temperature changes on your premises
Your best early detection tool
Thermography is the ideal method for scanning individuals or large crowds of people from a distance. With MOBOTIX thermal imaging cameras, the temperature of people entering a facility can be measured and an alarm is triggered when a deviation is detected. In this way, people with a high body temperature can be recognised quickly and reliably and separated for more accurate monitoring.
When a crowd of people enters a facility, hospital, airport, train station, bus station or your premises, thermographic cameras can detect temperature variations among people. If a temperature of 38°C is set, these cameras can be configured to emit an acoustic warning or a message automatically sending it to the computer of your choice. In this way, it works as a first filter, so that only those people who show a deviation in their temperature with respect to the others can be measured later.
Detect temperature variations in people.
In case of detecting temperature variations in people, Mobotix thermographic cameras trigger a sound alarm, a network message, a switching output, etc., if the detected temperature exceeds a limit value that you set in advance.
Detects temperature variations in people
The first filter to be able to pass the temperature to everyone
Weatherproof, come rain or shine

The cameras trigger a sound alarm, network message, activate a switching output, etc., if the detected temperature exceeds a limit value that you set in advance.

They are able to recognise sudden over-temperatures independently and to react to them automatically and immediately.

Rugged, durable, multi-functional. Complete, weatherproof IP video systems for those who want more than just the standard.
Do you want more information?
We will contact you to help you protect your business and the people who work in it.
What is a thermographic camera and how does it work?
A thermographic camera converts the IR radiation emitted by objects or people with temperatures above absolute zero into a graphic image and measures the temperature accurately.

Thanks to real-time measurements, the system allows us to set up alerts based on the detection of abnormal temperature.

When the system detects an object in the image that exceeds 38°C, an acoustic warning is triggered to a PC or an alarm system that will activate the relevant protocol.


Thermal imaging technology is based on a non-contact imaging procedure that makes it possible to see the thermal radiation of an object or body in the spectrum invisible to the human eye (infrared length). And all this is done with full respect for privacy: the camera does not show recognisable details to identify faces. As soon as the object passes through the observation area, the MOBOTIX dual camera CCTV system automatically switches from thermal sensor to optical sensor.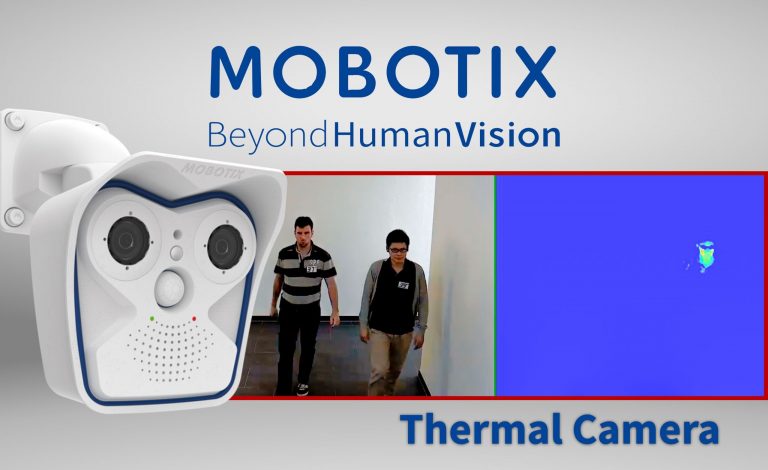 Features of Mobotix thermographic cameras
Sensitivity of 0.05℃, each temperature change can be displayed in different colours
Triggering of audible warning messages on temperature detection
Up to 20 different detection zones: one camera covers several locations
Storing images in the camera itself
High temperature analysis in humans
Management software included
Highly durable, IP66 and resistant
Double vision (optical and thermal) in the same system
Advanced cyber-security module to ensure the smooth running of systems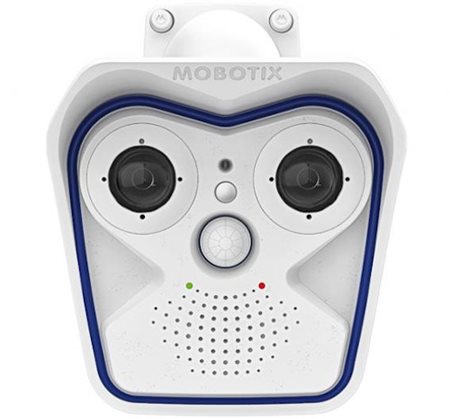 In addition, with Mobotix cameras:
Temperature detection
Measurement of the temperature range of objects from -40 to +550°C in up to 20 different defined zones in the thermal image using MOBOTIX thermal radiometry. This enables temperature detection by notifying the camera to facilitate follow-up prevention. 
Intelligent detection of objects in movement
Perimeter security provides the ability to detect motion detection using thermal imaging sensors. This means that even in complete darkness, the camera will detect motion through the use of a thermal imaging motion sensor.
Additional industrial applications
Monitoring of production processes (early diagnosis of possible technical defects, remote inspection of the available power supply, solar parks, early detection of high temperatures in highly flammable materials to prevent fires).
Monitoring of chemical plants, oil fields and pipelines for early detection of oil and gas leaks.
High voltage monitoring of electrical equipment for fire prevention.
Checkpoint monitoring to detect abnormal temperature of monitored sites.
Identification of potential hazards in total darkness
Early fire alarm.
Prevention of power outages.
Implementation of automatic preventive measures.
Savings on repair costs.
Privacy protection.
Automatic alarm activation when a preset measurement range is reached.
Ensuring maximum security.
Quality assurance in production processes.
Ensure compliance with the requirements for a safe and secure working environment.